Maximum Test Features
MaxiTest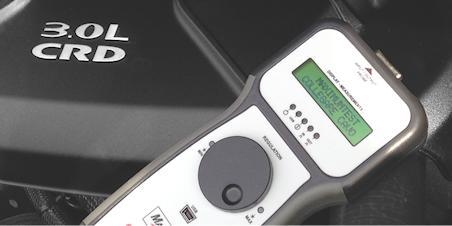 MAXIMUM TEST TECHNICAL SPECIFICATIONS:
2-line alphanumerical display
Multi-function knob with digital encoder
USB port for connection to PC (update of FW and application programs)
Power supply voltage: 9-15Vdc directly from battery
Protection against inversion and voltage surges
Protection agains current overload via external fuses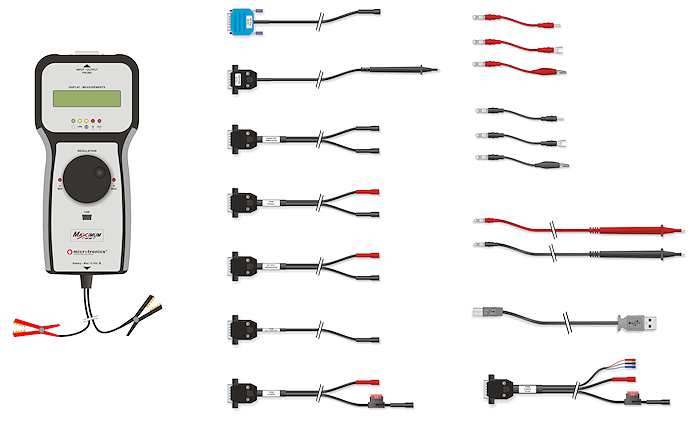 TECHNICAL SPECIFICATIONS OF WIRING AND FUNCTIONS CURRENTLY AVAILABLE:

DC and PWM multimeter: max. and min. voltages from 0.0 to 100.0V; frequency from 0 to 20KHz; duty cycle from 1 to 99%.
DC Generator: from 0.0 to 12.0Vdc; internal resistance=250ohm.
Variable resistance simulation: 220ohm-25Kohm with steps of approx. 200ohm.
Spark plug test: nominal voltage adjustable from 3.3 to 12V; max. current 20A; ignition time adjustable from 5 to 20sec.; display of current absorption and filament resistance in real time.
Pwm signal: signal amplitude from 0 to 12V; frequency from 1Hz to 15KHz; duty cycle from 1 to 99%.
Pwm power with activation of negative pwm: batt. voltage (12V nom.); frequency from 1Hz to 1000Hz; duty-cycle from 1 to 99%; max. current 10A.
Activation of electromechanical injectors: with negative activation, frequency and injection time variable according to the type of fuel (petrol, diesel, gas).
Activation of piezoelectric injectors: nominal voltage at 120V and variable frequency.
Electromagnetic sensor: inductive detection of pulses/sec on power drives.
Engine mass test: display of voltage readings and test results.