Norms EN12453 - EN12445
BlueForce
NEW REGULATION EN 12453:2017
These are the changes in relation to the previous regulations EN 12453:2000 and EN 12445:2000
The EN 12453 has been revised to be harmonized according with the Machinery Directive 2006/42/CE




The EN 12453 has been unified to the EN12445; from the 2018 the EN 12445:2000 will be withdrawn.



The following points have been revised:
Revision of the list of the significant dangers




Revision of the safety and/or protection measures




Revision of the verification of the safety requirements




Editorial revision of the annex A (limitation of forces)



The following annexes have been added:
Addition of the annex B (examples of mechanical protection and safety distances)




Addition of the annex C (force measuring method)




Addition of the annex D (test method for the detection of presence)




Addition of the annex E (protection against the downfall of the suspension system of a vertical power–operated door)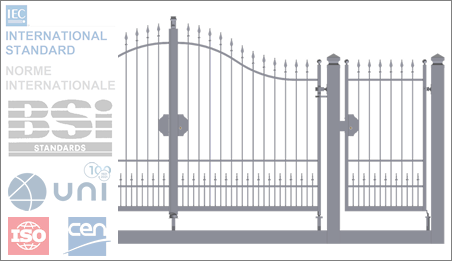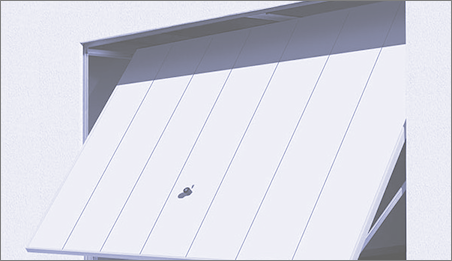 Fulfillments for the Installer of Automatic Closures
The Machinery Directive
2006/42/CE
, to all effects and purposes implemented by the EU member states, is now a reference point for the obligations of ensuring machine safety. On the basis of this text, the responsibility for CE marking of a power-operated gate lies with the installer who assembles the automation on site, thereby creating a unique machine, differing from standard products in a wide range of construction, structural and environmental features.
Therefore it is evident that in this case we can no longer speak of a "typical" sample test procedure, as these machines each differ from one another, and can give rise to a variety of different and potentially hazardous situations within the context of the installation.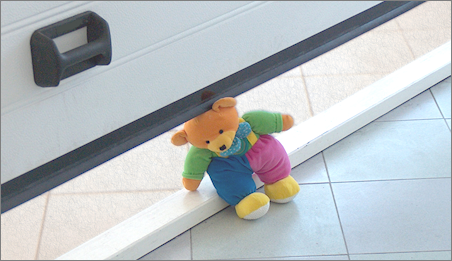 With this in mind, the professional installer of an operator of an automatic gate or door, in order to obtain the presumed conformity to the Machinery Directive, and therefore CE marking, must refer to the harmonised standards EN 12453
(former EN12445)
, which respectively describe the construction requirements of the door and the tests that must be performed on site to certify operation safety.
Among the compulsory requirements for the Installer is that of drawing up the Technical Specifications of the machine, containing a check on compliance with the Essential Requirements and risk assessment, as well as reports of the tests performed on site to check operation of the safety devices, above all on the working force limitation system, using the specific measurement instrument as envisaged by the standard
EN12453
.
OTHER REFERENCE STANDARDS
EN 13241:2016
Support regulations for industrial, commercial and garage doors and gates (CE conformity)
EN 12453:2017
Safety in use of powered gates and doors – Requirements and test methods (completes the ex EN12445)
EN 16005:2013
Pedestrian power operated doors – Requirements and test methods
EN 60335-2-95:2015
Single residential garage doors with vertical moving
EN 12978:2009
Safety devices for power operated doors and gates – Requirements and test methods
EN 12489:2002
Requirements of resistance to water penetration of manually actioned doors, gates and barriers
EN 12604:2017
Mechanical aspects of manually actioned doors, gates and barriers
EN 12605:2001
Test methods of manually actioned doors, gates and barriers
(included in the EN12604)
EN 12653:2008
Installation and use of doors, gates and barriers
EN 12433-1
Terminology -Types of doors
EN 12433-2
Terminology-Parts of doors
EN 12444
Resistance to wind load - Testing and calculation
EN 12427
Air permeability -Test method